XPages and Domino 9.0.1 FP2: upgrades to CKEditor and Dojo
August 24th, 2014
IBM released fix pack 2 for Domino and XWork Server 9.0.1 this week. Among many fixes it includes the following fix:
SPR# TMGN9KJTEB - Adds Internet Explorer 11 support for xPages
I asked Brian Gleeson from the IBM Dublin team what exactly this means, and he responded that it covers an upgrade of CKEditor from 3.6.x to 4.3.2 and an upgrade of Dojo from 1.8.3 to 1.9.2.
One issue I have seen so far with CKEditor 4.3.2 is that the "Insert image" button called 'Image' in a custom toolbar is different from the standard "Insert image" button used if you use the default toolbar. Instead, you need to use 'IbmImage' as the name of the image button.
The latest CKEditor adds a spell check option - either through the default toolbar or by adding 'IbmSpellChecker' to your custom toolbar. It's great that the CKEditor in XPages finally adds that facility. Here it is in action: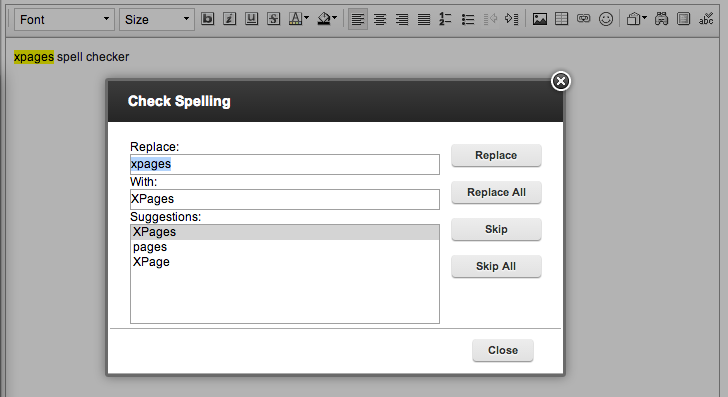 With the new CKEditor the 'toolbarType' Dojo attribute no longer works. Instead use 'toolbar' as Dojo attribute with Slim, Medium, Large and Full as possible values.
Tags: IBM Domino, IBM XWork Server, XPages