Client project: XPages CMS for company website
May 30th, 2011
My company PHL Consult completed another client project last week involving XPages. The purpose of the project was to modernize an existing Lotus Domino company website by creating a new XPages solution with a related Lotus Notes client CMS for article editing and related content handling (such as menus, graphics, and meta data) - and by using XPages to allow the website to utilize CSS for cross browser compatibility.
The client is Mediaplus.dk and this is an interesting company that takes advantage of Lotus Notes and Domino to offer a CRM solution called Mediaplus CRM targeted at supermarket and grocery store suppliers.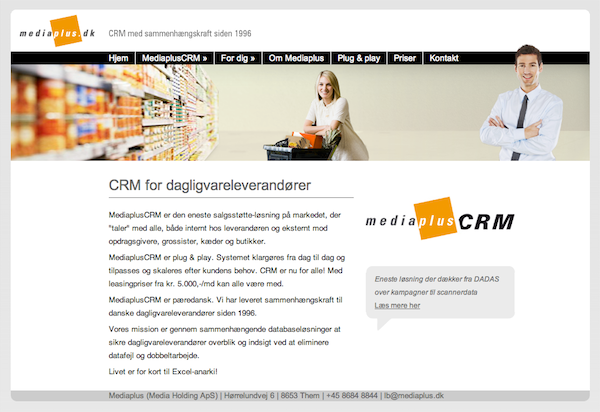 The design for the website was created by Thomas Arendt from Make Your Mark. Based on his design guide I was then responsible for creating the necessary CSS to allow the design to be implemented. The CSS extends the IBM OneUI v2 CSS (although you need to look in the HTML and CSS source to tell).
The CMS includes functionality to improve search engine ranking by providing a sitemap for e.g. Google Webmaster Tools, by using meta tags such as description and robots and by providing useful page titles. These are all small but useful extensions to a website if you want to improve search engine rankings.
Tags: Lotus Domino, Lotus Domino Designer, PHL Consult, XPages