I am now an IBM Certified Advanced Application Developer – Lotus Notes and Domino 8.5
September 21st, 2012
I recently passed the LOT-922 certification test (Developing IBM Lotus Domino 8.5.2 Applications: Advanced XPage Design). The test is a multiple choice test with 32 questions and a required passing score of 75%- I scored 90%.
Since I was already an IBM Certified Application Developer on Notes/Domino 8.5 the passing of the test upgraded my certification level to IBM Certified Advanced Application Developer - Lotus Notes and Domino 8.5.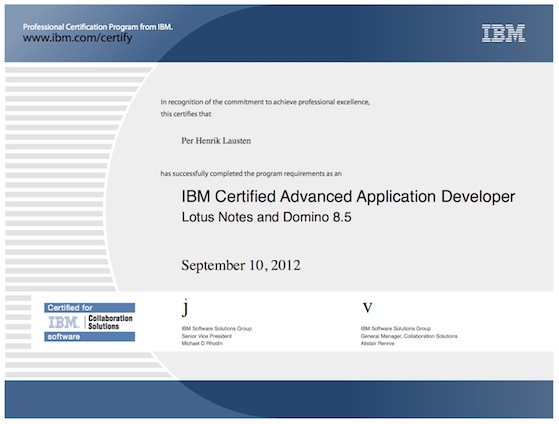 I prepared for the test by reading the test objectives and by practicing using a practice test from CertFX. The test focuses on advanced XPages programming and covers the following areas:
Building themes
Extending the data sources
Optimizing, troubleshooting and localization
Using advanced Dojo controls
Using Server-side JavaScript
Using XPages for mobile user interfaces
Working with Java
Unfortunately, the test is already somewhat outdated in its focus on Domino Designer 8.5.2. So be prepared for that if you plan to take the test.
Tags: certification, Java, Lotus Domino, Lotus Domino Designer, XPages