Thoughts from Lotusphere 2012: Lotus Notes Social Edition
January 23rd, 2012
One of the highlights from Lotusphere 2012 was the accouncement of the next feature release of Lotus Notes called Lotus Notes Social Edition.
Lotus Notes Social Edition features a new homepage with activity streams and embedded apps (embedded experiences) using open standards such as OpenSocial. From the Lotus Notes homepage a user can interact with an external application without leaving the home page (collaboratio in-context). Lotus iNotes (the web mail component for Lotus Notes) will also support activity streams and embedded apps. The new homepage looks similar to the activity streams in the upcoming IBM Connections 4.0 release.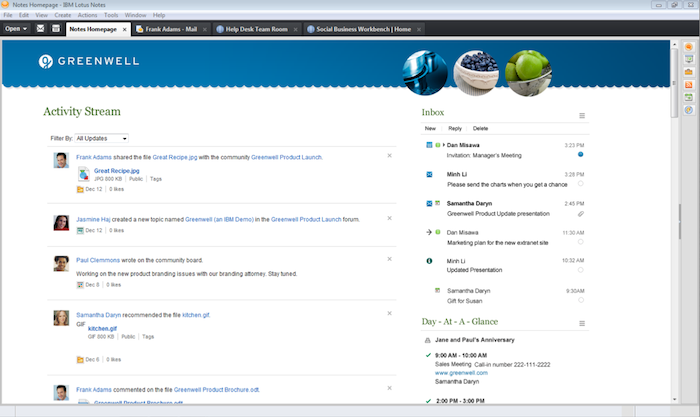 XPages and the Extension Library Social Enabler toolkit can be used to implemenet applications that support activity streams and OpenSocial gadgets in order to create embedded apps. The Social Enabler Toolkit is currently only part of the OpenNTF release and will be part of Upgrade Pack 2.
Social Edition also features a brand-new and more simple UI for mail (for both the Lotus Notes client and for iNotes webmail):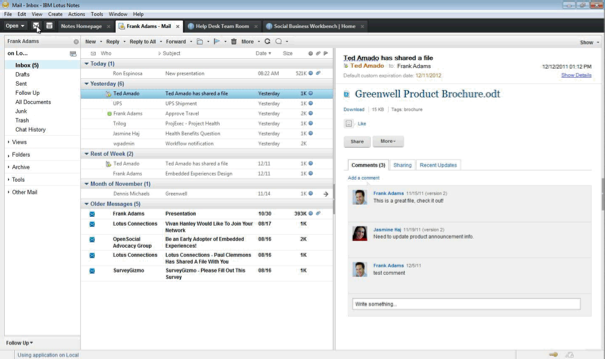 In between now (8.5.3) and Social Edition we will see a 8.5.4 release with features required to be able to deploy the Social Edition upgrade on top of Lotus Notes and Domino 8.5.4. In 2012 we will also see the release of Upgrade Pack 2 (IBM supported Extension Library with new features currently only available in the experimental part of the OpenNTF Extension Library).
Lotus Domino 8.5.4 is planned to support SAML and oAUTH for authentication. With Domino supporting oAUTH it will be possible to bring XPages applications into the context of other applications.
Finally, the Lotus Notes app browser plugin for Firefox/Windows was presented at Lotusphere. This plugin is a lightweight Lotus Notes client in the browser that can run Notes client applications. This enables organizations to focus on implementing new XPages web applications and have their existing/old Notes client applications use the plugin.
Ed Brill from IBM has blogged about Lotus Notes and Domino Social Edition and also posted his "Messaging and Collaboration Strategy" session from Lotusphere on Slideshare.
Chris Reckling from IBM has blogged about the Notes and iNotes announcements from the Lotusphere 2012 OGS.
Tags: Lotus Domino, Lotus Notes, Lotusphere, Lotusphere2012, OpenNTF, OpenSocial, XPages