Thoughts from Lotusphere 2012: IBM Connections 4 ("Next")
January 23rd, 2012
At the Lotusphere 2012 Opening General Session (OGS) and throughout the conference IBM showed the next version of IBM Connections (to be called IBM Connections 4.0?). My first impression of the next release of IBM Connections is that it looks really, really great! Among many things it features exciting new elements such as activity streams, social mail and embedded apps (using open standards such as Activity Streams and OpenSocial gadgets).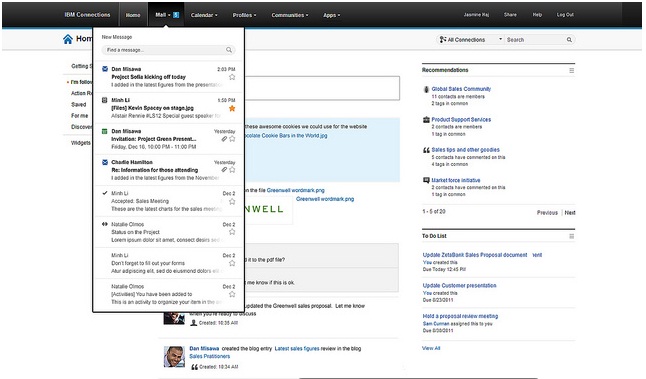 Embedded apps for activity streams can be created using e.g. XPages. An embedded app makes it possible for the user to take action directly from the invidual post in the activity stream (without leaving IBM Connections).
The integrated mail and calendar of IBM Connections (social mail) will support Lotus Domino and Microsoft Exchange as backend mail servers. This is an interesting move  that makes the underlying mail server in use irrelevant to the IBM Connections deployment.
IBM Connections 4 also includes community metrics (to track e.g. adoption rates), optional realtime group video chat using a plugin from Polycom, ECM library integration and realtime co-editing of documents, presentations and spreadsheets using IBM Docs (IBM Docs is currently in beta on IBM Greenhouse).
Tags: IBM Connections, Lotus Domino, Lotusphere, Lotusphere2012, Microsoft Exchange, OpenSocial, XPages